Click here to view the rules and entry information to compete for the cover of this year's cards!
This holiday season, you can give a gift twice! 
With your holiday cards this year, donate in honor of family, friends or clients and help provide better health to neighbors in need at the same time.
This year, we are offering two options:
We will mail a beautiful card designed by local youth, stating that a donation was made in the recipient's honor, along with any personalized message you provide. (Minimum $10. Mailed directly by Better Health)
Sets of 25 non-customized cards which include the same beautiful cover image, and a general holiday message "A donation to Better Health was received in your honor.  This will help ensure a happy, healthy holiday for all this season."  (Available as a set of 25 for $125.  Must be mailed by the purchaser.)
Your donation stays right here in our community and 100% goes to helping clients in need! 
This year's cards were designed by Taft Courie, 8 years old, a local Fayetteville student.  He wrote, "I enjoy spending time with my family at Christmas and pray for hope and healing for all this Christmas".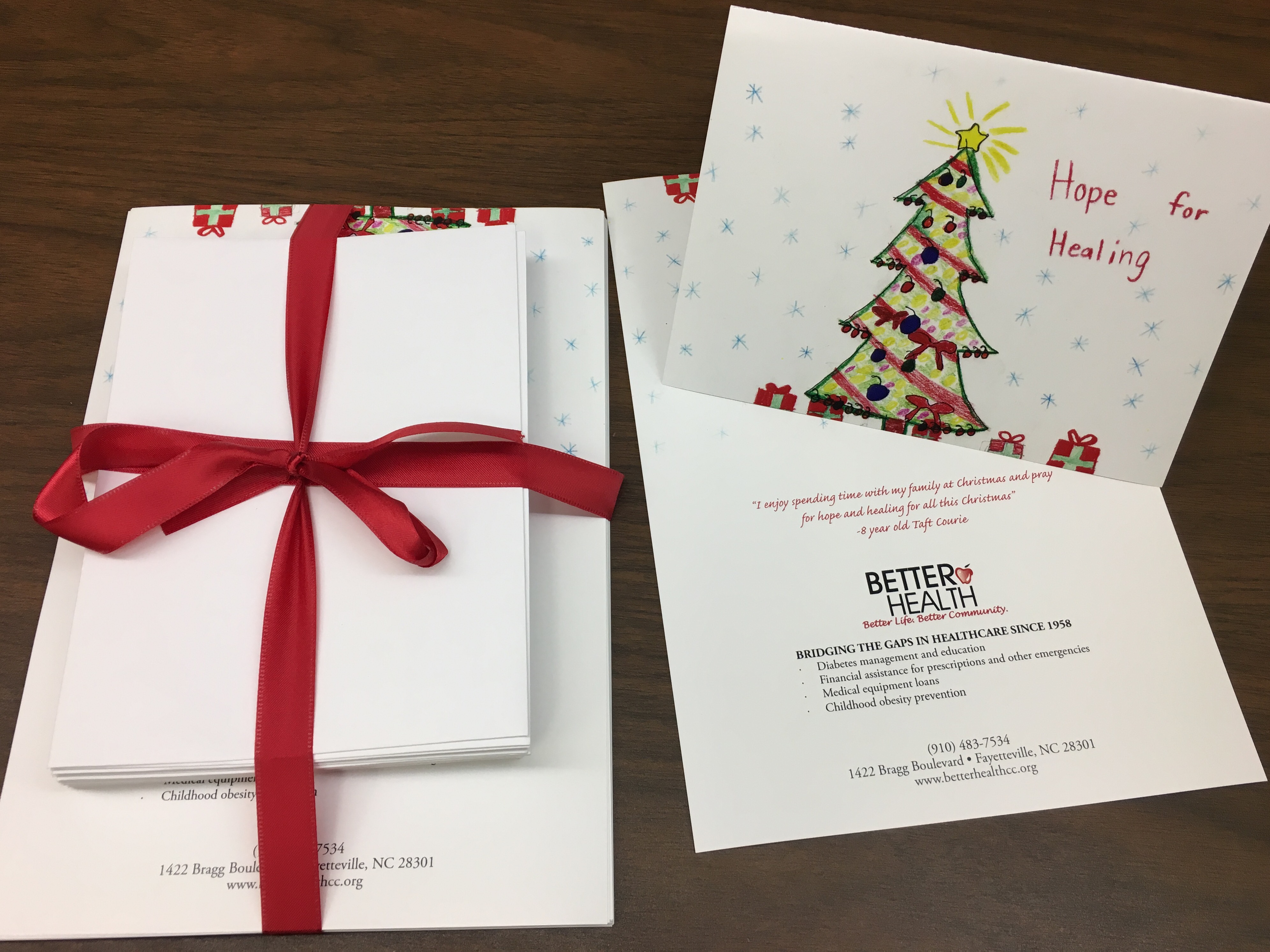 Exterior of 2016 Holiday Gift Card
Please email or mail in this printable form and make payment either: 1) at the top of this page using the "Donate" button, 2) via phone at 910-483-7534, 3) by check to 1422 Bragg Blvd, Fayetteville, NC 28301.

If you prefer not to complete the online form below, simply print off the printable order form and mail in to 1422 Bragg Boulevard, Fayetteville, NC 28301 along with your payment, or email to director@betterhealthcc.org and call to make your payment. 910-483-7534.