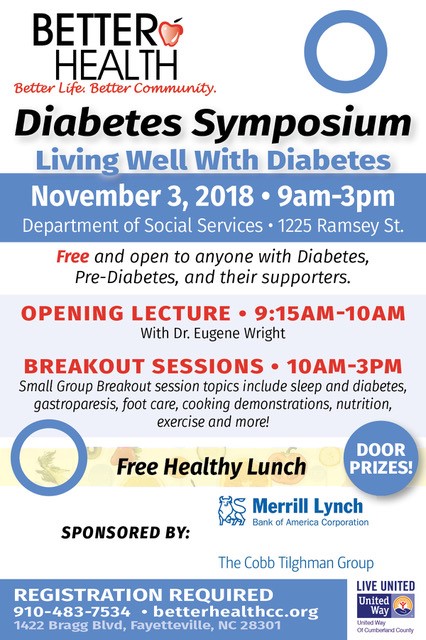 The symposium, hosted by Better Health and sponsored by the Cobb Tilghman Group at Merrill Lynch, marks the beginning of Diabetes Awareness Month.  The event is FREE and will be held on Saturday, November 3rd beginning at 9 am, at the Department of Social Services in Fayetteville NC.
The event will begin with a brief opening lecture by Dr. Eugene Wright.  Lunch will be provided, followed by breakout sessions covering a variety of topics relevant to diabetes.  Attendees can choose the sessions that interest them most.
To view a detailed list of guest speakers and topics, click here
Online registration is now closed.  You may come in person to the event Saturday, Nov 3rd, however, we can not guarantee lunch to those who are not pre-registered.  
Share our event on Facebook!  
---
Vendor Booths Include:
Carolina Collaborative Community Care

Better Health

St Joseph of the Pines, LIFE

Fayetteville Hyperbarics
---
Sponsored By: